Five fairly unfamiliar rookies I'm watching tonight
The Boston Bruins take on the New York Islanders tonight at the TD Garden in their first Rookies game of the season. Naturally, all eyes are going to be on Tyler Seguin — as well as Joe Colborne, Jordan Caron, Max Sauve, and Jared Knight — but here are five players, aside from those just mentioned, that I'll be keeping an eye out for.

ALAIN GOULET: 6'2" 186 lbs. 22-years-old
Position: Defense
Drafted: Round 6, #159 overall by Boston Bruins in 2006
Affiliate: AHL Providence Bruins, 2009-10
Goulet is a tall, smooth-skating offensive defenseman. He is very mobile, has good speed and skates with nice, long strides. He is very poised with the puck and moves quite well with it. He has outstanding offensive abilities and will jump up and join the play when the opportunity presents itself. He utilizes his size, mobility and long reach quite effectively in playing his position. Goulet's great hands and ability to get shots on net also makes him dangerous on the power play. He also sees the ice exceedingly well.



MATT DELAHEY: 6'1" 215 lbs. 20-years-old
Position: Defense
Drafted: Round 4, #112 overall in 2008 by the New Jersey Devils
Affiliate: WHL Chilliwack Bruins Hockey's Future:
At this stage in his development, Delahey appears to be a jack of all trades type of defender. He excels playing a physical brand of hockey, is a sound and steady defender and has those intangible qualities like leadership that you just can't teach. As he continues to mature offensively and fill out his 6'1, 215 lb frame, Delahey should start to climb up the Devils prospect ladder fairly quickly. He has tremendous upside and could easily emerge as one of the top defenders in the WHL next season.
ANTOINE ROUSSEL: 5'11", 175 lbs. 22-years-old
Position: Left Wing
Drafted: Undrafted
Affiliate: QMHL Chicoutimi Sagueneens
Overview: Born in France, the gritty left winger posted 24-23-47 totals in the QMJHL last season with the Chicoutimi Sagueneens, while piling up 131 penalty minutes. The undrafted forward also potted 4-5-9 totals in seven playoff games with the Sagueneens before getting bounced in the first round by the Rimouski Océanic.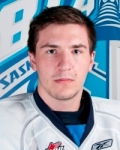 WALKER WINTONEAK: 6'3″ 208 lbs. 21-years-old
Position: Right wing
Drafted: Undrafted Affiliate:
WHL Saskatoon Blades
Veteran forwards Derek Hulak and Walker Wintoneak have been terrific. They are what teams have in mind when they build around overage players. Hulak is a productive scorer and a big-game player. He thrives under pressure. Wintoneak meanwhile is a big, strong forward who wins the one-on-one battles and is tough to move from in front of the net.
TYLER RANDELL: 6'1″ 195 lbs. 19-years-old
Position: Right Wing
Drafted: Round 6 #176 overall by the Boston Bruins in 2009
Affiliate: OHL Kitchener Rangers
The Final Word
On paper, Randell should be higher on the Boston prospect depth chart, but he was a sixth-round pick for a reason. Make no mistake– it was a value selection for the Bruins, because talent-wise, he was probably a solid third-rounder. If he can get the motor started and bring up the effort levels, he has a chance, but as of now, Randell is a longshot. This is a big year for him: if he can get his 25 or more goals as his junior coach has said he's capable of (and even expected), then he'll probably sign and get a shot in the Boston organization next season. If not, then look for the B's to pass on him next June, and he'll likely end up being another draft footnote: a player possessing the right size and ability, but not able to do all of the other things it takes to be an NHL regular.