Celebrations are an integral part of hockey.
They are the crowning achievement awarded to any goal scorer who is can skate through the opposition's line of defense and fire a six-ounce slab of rubber into the back of a net.
For a brief moment, a spotlight shines down on a single player and provides an opportunity for theatrics. You'll see it at every level of the game: from the collegiate and high school ranks to the glory days of pee wee hockey.
But there's one imported Bostonian — from way of Edmonton — that stands out above the rest. That man is none other than second-year Bruins forward Jake DeBrusk.
The 22-year-old high-flying winger isn't shy about adding a little personality once the goal horn sounds. He'll find any reason to celebrate whenever he lights the lamp from tap-ins to game-winners and playoff tallies.
He has a full arsenal of tricks up his sleeve too. You can see him doing his patented fist pump, saluting the crowd, tugging on the spoked 'B' of his jersey and even tackling his fellow teammates on any given night.
One thing is for certain: when No. 74 lights the lamp, it's 'Celly Szn.'
"Well, first I'm shocked to see the puck go into the net no matter when it is…I think it is the best feeling in the world," DeBrusk said about why he loves to celebrate. "I think that you work so hard to get to the NHL and things like that, when you score a goal you should be able to do what you want. You don't want to be disrespectful, but I definitely like to show my emotion as previous games have shown that's for sure."
His in-game emotions might be new for some Bruins fans. But DeBrusk's spirited celebrations mark another night in the office for the 2015 first round selection.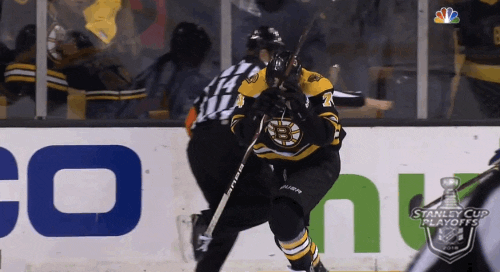 DeBrusk's competitiveness came at a very young age. For instance, DeBrusk netted 42 goals during his 2014-15 season with the Swift Current Broncos during the 2014-15 season. And yes, his trademark fist pumps and emphatic celebrations were on full display each time he lit the lamp.
He was reminded where his 'cellys' all began when he returned home last summer. Following a summer-league game, he was shown an old VCR tape of his very first goal. DeBrusk, half trying to hide a smile, said he celebrated pretty hard back then, too.
Growing up in Canada, DeBrusk had plenty of legends to draw inspiration from for his notorious celebration. His main influence is still playing the league, however.
"I think the reason why I do my celly is [Alex] Ovechkin. He does always does that celebration and I use to love watching Ovi losing his mind and jump into the glass, especially come playoff time," DeBrusk said about looking up to the 8-time 50-goal scorer for his post-goal antics. "He just showed some much raw emotion that's probably where I got it from."
Make no mistake about it, celebrating is an artform and not everyone can pull it off. There's a fine line between getting your team and fans pumped up and sending the opposing team into a headhunting frenzy.
DeBrusk has mastered the technique with his own unique style. He simplay goes with the flow and never pre-plans anything for fear of bad luck.
"Spur of the moment. Seems like every time I plan one Marchy [Brad Marchand] takes it and scores," DeBrusk added. "The only two times I've actually prepared for a celebration was the Winter Classic, I was going to do a snow angel, I thought that would have been pretty cool, and [Connor] McGregor. When McGregor was here, if I scored I was going to the strut. Of course, Marchy does both of them. Anytime he does a celebration that I was thinking about or we were thinking about, I think we are on the right track.
He does his research too. You don't become the mayor of 'Celly Szn' without putting in a little elbow grease and keeping track of the competition.
DeBrusk loves seeing what his fellow peers like Alexander Kuznetsov and Patrick Kane have in store when putting on the TV. His personal favorites are Kane's showtime slide and Kuznetsov's iconic bird celebration. But nothing compares to the emotions of a postseason goal in his eyes.
To stay on top of his game, he doesn't just limit himself to professional hockey. Boston's second-line left winger occasionally takes notes from the widest reaches of the game through various social media platforms like Instagram.
"I've seen some incredible celebrations just on Instagram. I saw one the other day that was actually unbelievable, it was a salt bae one in the KHL I think. I love creative ones like that just because I know I probably can't pull them off but that one stuck out to me," DeBrusk said.
"Subtle ones are good too but like Kuznetsov when he scores in overtime, I like those ones. It's like holy smokes this guy is feeling it. There's nothing better than seeing someone just lose it on a celebration."
Post-goal theatrics are a hot locker room topic according to DeBrusk. The gamesmanship that comes with it brings together a fun round of banter throughout the dressing rooms at TD Garden and Warrior Ice Arena.
It's something fun that brings the team together and adds character as the Bruins prepare for another playoff run. While not everyone always participates, there have been some creative celebrations this season.
Who does DeBrusk rank among the best on the Bruins? Here's a hint: they all scored a goal in Boston's Winter Classic victory over the Blackhawks at historic Notre Dame Stadium on New Year's Day.
"I'd have to go with Sean [Kuraly] because I like his leap," DeBrusk said. "I don't like [David] Krejci's cellys because he doesn't celly. He's too cool and calm. When he shows a little emotion, that gets me going. There's guys like me where every time I score, preseason or whatever, I'm going to do something. I love Sean's, I love Pasta's [David Pastrnak] and I love Marchy's.
There is no discrimination in the art of celebrating either. Any player of any age of any size on any team can join in on the fun, albeit following a goal of course.
In fact, one of DeBrusk's funniest encounters came from none other than 6-foot-9 defenseman Zdeno Chara.
"I was actually kind of mad at Zee, I don't know if he was kind of making jokes about my celebrations but he would walk around the room throughout this year and go down on one knee and fist pump for no reason. He was like 'Am I doing it right?'. You're doing it right, you gotta go do it," DeBrusk said. "It would be hilarious to see the big man do it. He said 'I'll do it for my 200th.' He didn't for his 200th but it was still a pretty good celly. I like Zee's celly."
Now in the later stages of his second NHL season, DeBrusk, his celebrations and the Boston Bruins are in full swing as the postseason approaches.
The Bruins sit in second place in the Atlantic Division with 103 points entering the final week of the 2018-19 regular season. They'll more than likely — barring any late-season collapse in Toronto — face the Maple Leafs for the second straight year in the first round, beginning next week. The storied history between these two Original Six franchises needs no introduction. The high-end talent on both ends will certainly write the latest chapter.
Neither team will have any room for error. But there's still plenty of space for celebrations even with the spotlight that comes with the territory of playoff hockey.
"For the playoffs? I have to score first my friend. Celly season is gotta get going I think for that," DeBrusk said about potential postseason celly's. "I don't know, I actually don't know. It depends on the time in the game. Last year, I think game seven I did a little jersey tug and that's a little spicy. Certain things happen. If it's a big goal, an overtime goal then you guys will have to wait and find out. It might be pretty intense."
We will certainly find out soon.